Build with us!
Build with us!
Cultural and educational center in Chiuno Village
Based on current child labour and hopeless perspectives for children and young people, we want to find a remedy. The project results from the wishes of the village community, which has been actively involved in the conception, planning and implementation since the start of the project.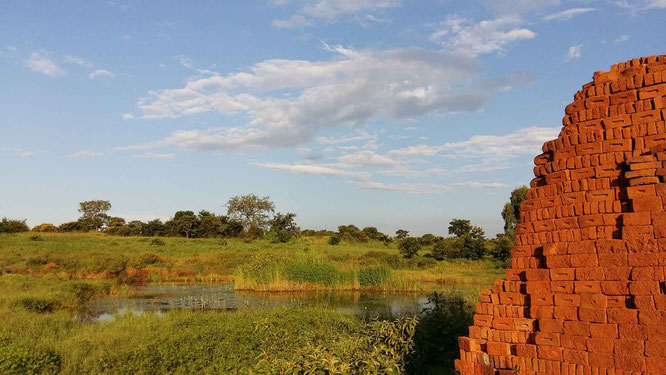 Construction projects:
The centre serves as a meeting place to involve the entire village community. In addition to school and after-school lessons, artistic initiatives such as dance and theatre courses and performances in front of an audience take place. For festive events, e.g. weddings, it offers space for guests who are catered for by the in-house gastronomy. A fruit and vegetable garden serves for self-sufficiency. In addition to training workshops (carpentry, metal construction, tailoring), there is a doctor's house for sustainable medical care on site. In addition (later) there is a residential home for orphans and children who have experienced violence or abuse, as well as accommodation for teaching staff.
Examples from another very laudable project in Malawi. We also want to follow the traditional building method.
Examples from another very laudable project in Malawi. We also want to follow the traditional building method.
Building specifications:
It is built in the traditional way from fired red bricks. These are built onto a concrete foundation.,
Floors: exposed concrete, tiles in the sanitary areas, wooden floorboards or parquette in the event room, classroom and office.
Roof structure: a carpenter's construction with formwork, counter battens and corrugated iron roofing.
The event room is supported by a steel construction, covered by wooden framing, counter battens and corrugated sheet metal elements.
Walls: exposed brickwork, except for the sanitary rooms and the kitchen which are tiled.
The sanitary rooms are modern. The solar power supply is environmentally friendly. The water is taken from a well system, the rainwater collected in a cistern is used for watering the garden. The waste water is treated in a small biological sewage treatment plant.
Buy and donate bricks!
One square metre of double-layer brickwork costs 100 Euros. According to current planning we need 1000 square meters. The bricks are produced in the village, so that every donation also creates and maintains jobs.
Brick packages for effective donation.
Donate 200 bricks => €200
Donate 300 bricks => €285
Donate 400 bricks => €370
Donate 500 bricks => €450
Other donation options:
Donate a window
Donate a wooden door
Donate a steel door
Donate a floor covering
Donate wall tiles
Donate sanitary ware